About the Artists
Rockabelly Lifecasts is run by two of the UK's most renowned lifecasters, CJ Munn and André Masters, who have over 40 years experience in lifecasting between them as well as expertise in many other art forms, including traditional sculpture, painting, model making, engraving, metalwork, design, silversmithing, engineering, mould making, leather work and much much more. As such they offer more choice of material and surface finishes for body casts than any other lifecasting company in the UK. Between them they have won over a dozen awards for both their creative talents and customer service.
 
Although, being a female artist, most clients prefer to be lifecast by CJ, André is also available for appointments with male clients, or for more advanced types of lifecasting which may involve more than one artist for safety. Both artists bring their range of expertise to the finishing and display of your bespoke body cast sculptures so you can be sure of getting the best experience, service and outcome from your time at Rockabelly Lifecasts. At the risk of sounding cheesy, everything made by CJ and André is made with love, by two people who love what they do. We believe this shared passion and care shows in the artwork that you receive, and our customers agree, as you can see from the great many testimonials on independent company review website FreeIndex where Rockabelly Lifecasts continues to be listed as the UK's favourite lifecasting company year upon year based on independently verified customer testimonials and feedback.
CJ Munn - artist biography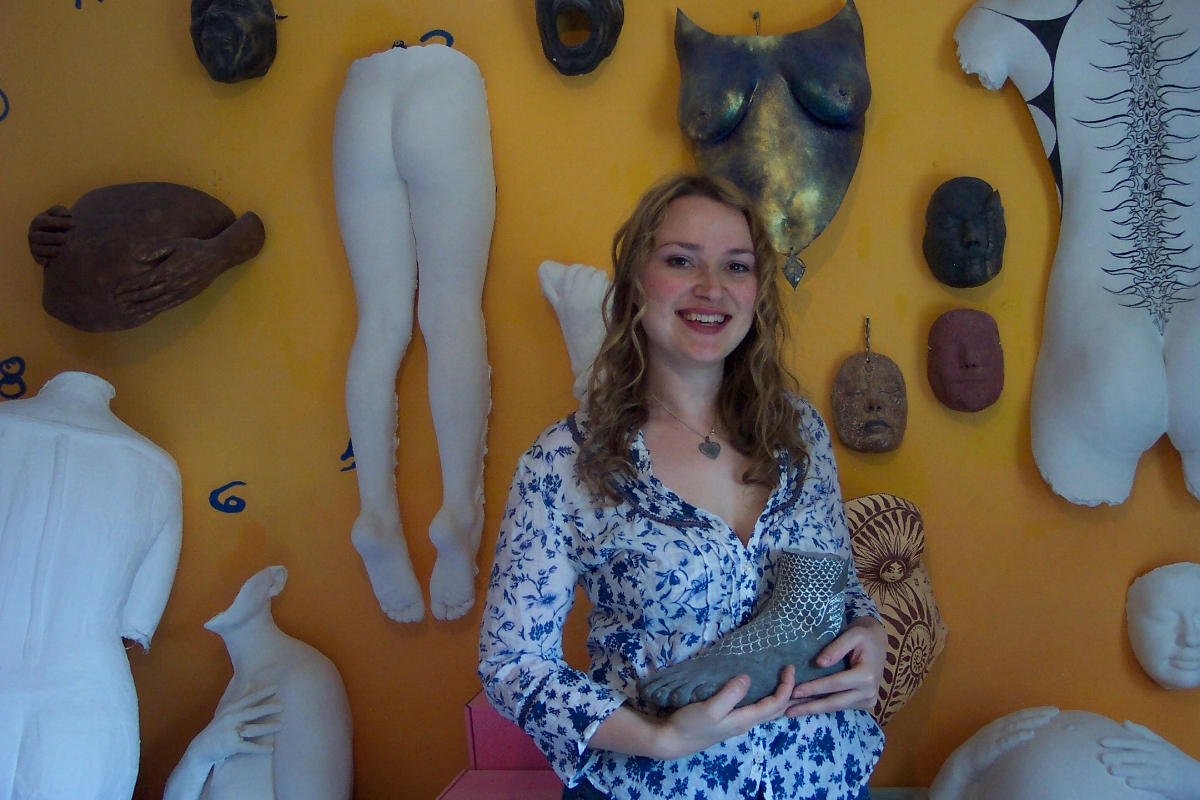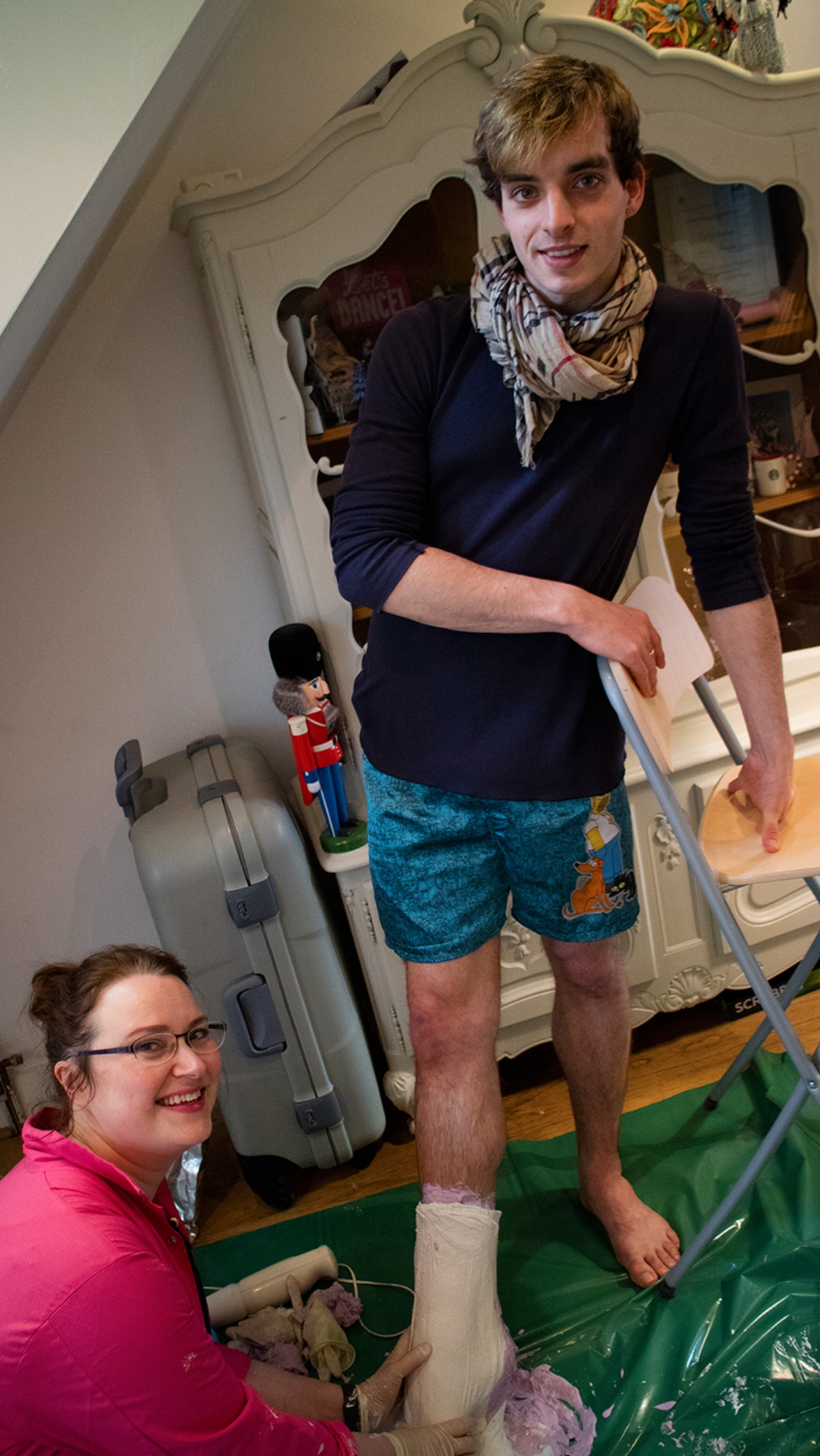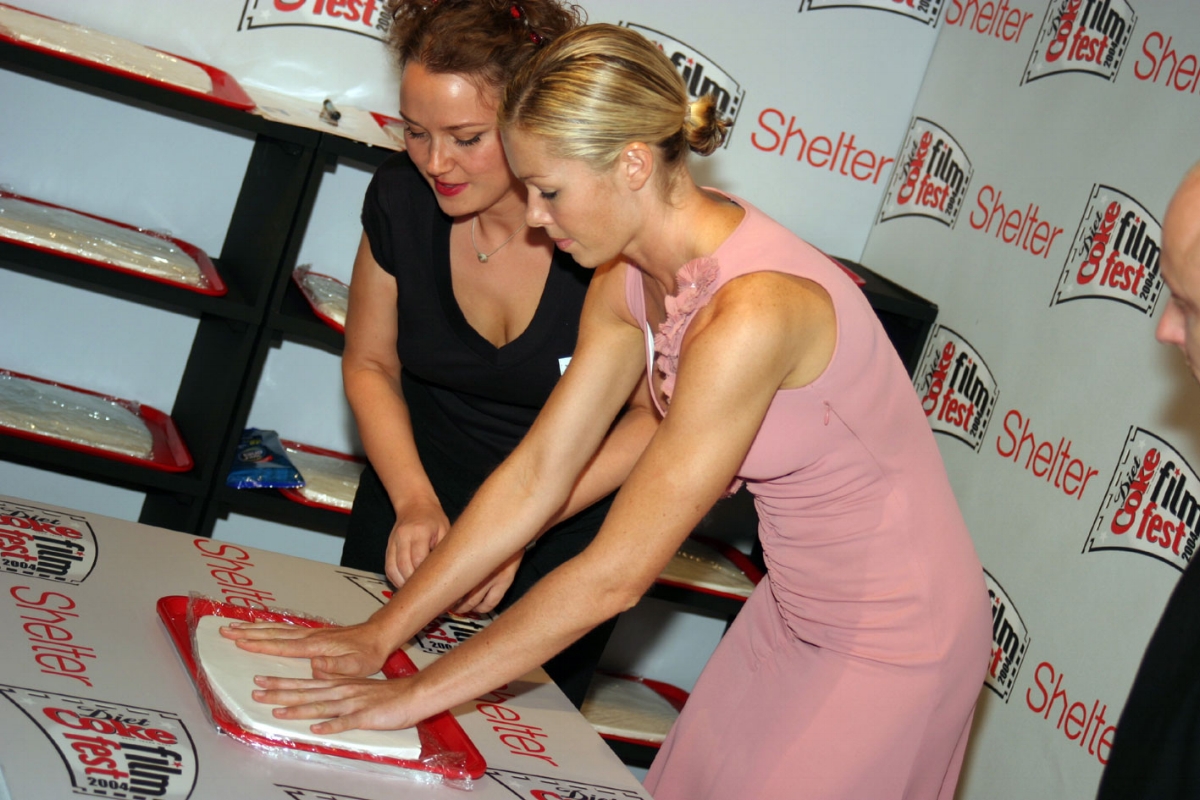 CJ Munn is a lifecaster, artist and writer from Kent, England. For many years, she worked as a writer and producer for television companies such as the BBC, Channel 4 and Illuminations Television.
It was only after taking a career break from tv journalism to become a mum that CJ returned to her two early passions:- art and writing. CJ now works from her home studio creating unique, beautiful and deeply personal works of art which have been featured in several national and international magazines as well as on many national and international TV shows (see below).
In 2005 CJ became the only UK artist to ever receive an International Lifecasting Award, from the Association of Lifecasters International, coming 3rd Runner Up in this world wide event. From 2015-2017 CJ was invited to serve as a board member of the Association of Lifecasters International - the only female board member and one of only three British artists to ever serve on the board.
In 2009, CJ joined forces with André Masters of All Handmade, her long term collaborator and former mentor, to create nine full body lifecasts in real copper for Thomas Hoblyn's award-winning showgarden at the Royal Horticultural Society's Chelsea Flower Show.
CJ and André finally made their partnership more than just a work thing in 2010, and now live together in Kent, combining forces in life and work to help each other both in Rockabelly Lifecasts and its sister company Masters & Munn, dedicated to exclusive, extra-special fine art lifecasts, sculptures and objets d'art. CJ is, by her own admission, 'the messy one' of the couple and is most likely to be found up to her elbows in some kind of goop and singing songs from 'The Sound of Music' to distract and entertain visiting children.
As well as making her lifecasts, CJ sculpts, paints, engraves, and is an award-winning, published but admittedly quite profoundly dreadful poet. In her spare time, CJ loves karaoke, watching classical ballet and haunting social media. CJ is also a fairly shoddy housewife and pretty lacklustre cook. She has refused point blank to iron anything since 1996 and she can't do anything even moderately presentable with her hair. But you can't have everything.
André Masters - artist biography
André Masters honed his creative skills working with every conceivable material as a professional modelmaker for the film and television industry since 1995. Running his own successful business in Hampshire, André created everything from robots, historical and fantasy armour, props, animatronics, sets and even puppets to an unparalleled standard. As part of his film career, André was self-taught in the art of lifecasting from a very early age and has worked with many international movie stars and pop musicians.
With such appreciation for his meticulous and beautiful workmanship coming so frequently, Andre's migration to the art world to work with his partner, CJ, was a natural and inevitable progression marking his desire to create personal works of art that are cherished so much by families and individuals.
André is perhaps best known in the lifecasting world for his incredible collection of lifecasts of endangered animals. Created to both raise awareness of the plight of rare species and to create tactile teaching aids for blind and partially sighted children, The Endangered Species Collection was formed from an idea André had back in 1998 when he began working with Woburn Safari Park and Chessington World of Adventures on a series of animal casts including lions, tigers and primates. Fast forward 13 years and CJ joined him to continue the expansion of this unique and beautiful collection, most recently culminating in a display of interactive bronze artefacts at the new WWF Living Planet Centre in Woking, Surrey, opened by Sir David Attenborough.
Never being one to settle for just one label, Andre also takes commissions for, amongst other things, interior design, wearable art and from time to time works as a guest lecturer at some of the top art and media colleges and universities around the country to inspire and guide the next generation of artists. In 2015, André was invited to become an Associate Teacher of Art for the prestigious Benenden School for Girls, in Cranbrook, Kent, where he has been granted Enhanced DBS Clearance for working with children and immensely enjoyed the opportunity to pass on his passion for 3d art to some of the most capable students in the country. And if that weren't enough, in early 2016 André was head-hunted to work on a new Wes Anderson stop-frame animation feature film 'Isle of Dogs' as Head of Department for the Puppet Hospital (which apparently is a real thing, and not just a made up job title).
On the rare occasions André gets spare time, he enjoys scuba diving, gymnastics, rock climbing, and cooking without burning things. He has almost all his own teeth, but his hair is another matter.
Our TV Appearances as lifecasting experts or featured artists:-
ITV's 'This Morning'
BBC Chelsea Flower Show
Channel 4's Supersize vs Superskinny
Watch's 'The Richard and Judy Show'
Sky Arts' 'Objects of Desire'
BBC News, ITV Meridian News
BBC's 'Boy Meets Girl'
BBC2's 'Worricker - Turks & Caicos'
BBC2's 'Show Me The Monet'
BBC3's 'Say No To The Knife'
ITV's 'The Alan Titchmarsh Show'
Discovery Channel's 'The Sex Hospital'
ITV's 'The Paul O'Grady Show'
BBC3's 'The Bachelor'
Channel 5's 'How To Have Sex After Marriage'
BBC1's 'Facelifts and Fillers'
Ch4's 'Finding My Twin Stranger'
In addition to regular TV appearances as guest experts and featured artists, André and CJ are regularly featured on local and national radio, various new media publications and national and international print media as guest experts in their field. To see our list of awards for our artwork and customer service, please visit our Testimonials page.